Annie Kiel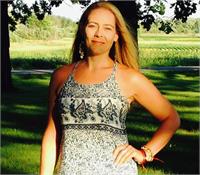 Annie Kiel is an E-RYT, trained at O2 Yoga in the Boston Metro Area. Teaching beginner through advanced vinyasa yoga, she pays particular attention to alignment and safety as students move from posture to posture, connecting breath with movement, while finding stillness in mind. Annie strongly believes yoga is a lifelong practice which cultivates better awareness on and off the mat. She encourages students to focus inward and to be active participants in creating their own experience by listening to their bodies. She holds a MA in Gender and Peace Building, a MPH in Global Health, has been attuned in Reiki Levels I and II, and completed training as a Health and Wellness Coach in spring 2017. In 2013, Annie co-founded Firefly Yoga International, a nonprofit which uses yoga as the public health intervention for survivors of trauma: www.fireflyyoga.org
Annie Kiel instructs the following:
Asana practice (mixed level) to prepare for breath work (pranayama) and 20 minutes of meditation.




For contunuing and intermediate students. Focus on alignment and the breath. Poses consist of sun salutations, standing poses, twists, back bends, inversions, and seated poses. Modifications and props are provided to help students access the poses safely and effectively. Philosophy is woven into the fabric of the class to help students embody the teachings of yoga.




Ideal for those new to yoga. Build a solid foundation for a safe and joyful yoga practice.