Amanda Hanlon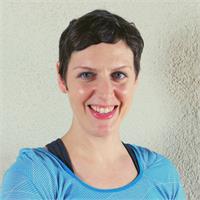 Amanda is a dedicated and passionate yoga practitioner and teacher. Starting her yoga journey in 1999 she has since received teaching certifications from Savannah Yoga Center in Savannah, GA and Laughing Lotus in San Francisco, CA. Specializing in Vinyasa yoga, Amanda brings her experience and dedication to her classes, where she focuses her students on being present in the body and mind and leads them through the practice with clarity, compassion and humor. As a new resident to the Twin Cities area, Amanda is excited to be part of the Big River Yoga community and share her practice with you!
Amanda Hanlon instructs the following:
Link breath to movement in this mixed level Vinyasa Yoga. Class includes sun salutations and a dynamic sequence of postures (asanas) that builds heat, releases tension and focuses the mind. Start your morning off right in this 55 minute class!