Geraldine Hickerson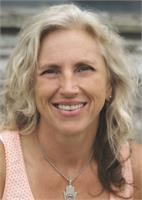 Geraldine is a teacher; it is her calling. She has taught Health and Wellness in public schools for 25 years before beginning her second career as a yoga instructor and Thai body worker. Her educational career combined with the teaching of yoga results in well-planned classes accessible to all levels. She is able to meet individual student needs on the fly and create unique modifications when necessary. Geraldine is passionate about self-care and healing through movement and breath practice that is accessible to every body. Outside the studio you can find her creating memories with her family and friends in a variety of ways; good meals shared, live music experiences, travel, and watching hockey…yes, she is a hockey fanatic!
Geraldine Hickerson instructs the following:
Level 1/2 class. Focus on alignment and the breath. Poses consist of sun salutations, standing poses, twists, back bends, inversions, and seated poses. Modifications and props are provided to help students access the poses safely and effectively. Philosophy is woven into the fabric of the class to help students embody the teachings of yoga.