Stephanie Mauceri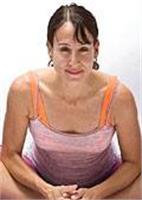 Steph is a native New Yorker who relocated to The Twin Cities in November 2009. She has been practicing Yoga since 1991 and teaching since 2003. Her first teaching certification was from OM Yoga NYC with additional studies/certifications in Prenatal Yoga, Yin Yoga, Therapeutic Yoga, Yoga for Children, and Anatomy for Yoga Teachers.
Although initially beginning her Yoga practice in the Ashtanga and Vinyasa traditions, she was in a car accident in 2004 and this caused her to reestablish her practice as more of a restorative and rehabilitative modality. Steph's classroom teaching style especially blends Vinyasa and Iyengar techniques with a strong emphasis on anatomy and kinesiology.
She is also a writer, proud mom of healthy fraternal twin boys-- born in 2010, and starting in summer 2015 will begin coursework towards a masters degree in Integrative Health Coaching.
Stephanie Mauceri instructs the following: