Gretchen Fellon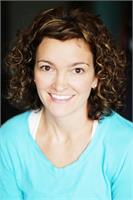 Gretchen felt a pull to yoga for its ability to nurture the body, mind, and spirit in a compassionate, loving way. She found her way to the Colorado Eldorado Mountain Ashram where she studied Shambhava Hatha Yoga and has been teaching since 2003. As a mother of two, Gretchen's yoga practice serves as a retreat from the day-to-day; an opportunity to indulge in self-care and self-love. Her classes encourage turning inward to allow your inner light to shine and your inner wisdom to guide. When we are in union with our natural state, we live a life of balance and harmony, free from negativity and dis-ease. She brings intention, passion, and big love to her yoga practice and encourages her students to do the same.
Gretchen Fellon instructs the following:
Ideal for those new to yoga. Build a solid foundation for a safe and joyful yoga practice.




Focus on alignment and the breath. Poses consist of sun salutations, standing poses, twists, back bends, inversions, and seated poses. Modifications and props are provided to help students access the poses safely and effectively. Philosophy is woven into the fabric of the class to help students embody the teachings of yoga.