Nora Gordon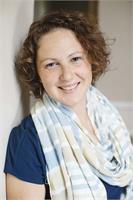 Nora loves to take life by the reins and is passionate about health; believing our bodies have unsurpassed wisdom. She supports a sustainable model of health through food, lifestyle, spirituality and holistic medicine. Nora holds a Masters in Public Health Nutrition from the University of Minnesota and currently works to improve health equity and food justice in Minneapolis. Additionally, she is a 200hr certified yoga instructor from Big River's Yoga for Conscious Living Program and she has studied health coaching, Ayurveda and holistic nutrition sciences. Often, you can find Nora on her mat at Big River Yoga, riding her bicycle, enjoying the outdoors, getting creative in the kitchen or sipping a cup of chai tea.
Nora Gordon instructs the following:
Restorative yoga is designed to help relax and renew the body on many levels; the nervous system, emotional distress, physical tension, and more. Poses are supported by props while relaxing music is played and poetry is read to encourage introspection and relaxation.




Ideal for those new to yoga. Build a solid foundation for a safe and joyful yoga practice.




Fresh beginnings, envisioned potential, renewed focus. Ring in 2019 with a special New Year's Day retreat workshop where you will have the opportunity to tune into your heart's calling, envision your intention, and magnify your actions for the new year! Let go what no longer serves you in 2018 and set the course for your next revolution around the sun!

This workshop includes:

Align & flow (all levels) yoga to remember, celebrate, and release. (60 mins)
Guided meditation into your sankalpa; your heart's deepest longing, your intention.
Vision Board project. This is so much more than just creating a collage; it's a powerful process of mapping out your vision using meaningful images, phrases, and words. Take it home and place it on your altar or special place as a daily reminder.
New Year's Day Ritual and Blessing to anchor and magnify your 2019 intentions.

This workshop offers an amazing chance to make a graceful transition into the new year, dig deep beneath the surface, and uncover new truths for 2019.




COST: $40 | members receive 10% off

Please note registration is a two-step process. After purchasing this item you must enroll in the workshop.