Nora Gordon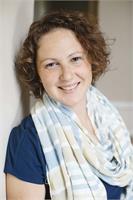 Nora loves to take life by the reins and is passionate about health; believing our bodies have unsurpassed wisdom. She supports a sustainable model of health through food, lifestyle, spirituality and holistic medicine. Nora holds a Masters in Public Health Nutrition from the University of Minnesota and currently works to improve health equity and food justice in Minneapolis. Additionally, she is a 200hr certified yoga instructor from Big River's Yoga for Conscious Living Program and she has studied health coaching, Ayurveda and holistic nutrition sciences. Often, you can find Nora on her mat at Big River Yoga, riding her bicycle, enjoying the outdoors, getting creative in the kitchen or sipping a cup of chai tea.
Nora Gordon instructs the following:
Restorative yoga is designed to help relax and renew the body on many levels; the nervous system, emotional distress, physical tension, and more. Under the soft glow of candlelight to evoke the sacred, poses are supported by props while relaxing music is played and poetry is read to encourage introspection and relaxation.




Learn about Yourself with AyurvedaSunday June 25th | 5:00-6:30pm

Ayurveda, the traditional healing modality from India, believes staying healthy is not a "one-size-fits-all" approach. Instead, Ayurveda views the world through the lense of three main elemental forces, or Doshas. Each of us has a unique blend of the Doshas that determines our constitution. In this workshop we will begin with the basics of Ayurvedic philosophy then learn about each of the Doshas - Vata, Pitta, and Kapha - and how they are present in you. Learn how you can design a lifestyle and diet in alignment with your constitution so you can lead a more balanced and healthy life in mind and body. Come away from this workshop with lifestyle tips specific to your constitution and yummy recipes to balance each Dosha. The world comes alive in a whole new way when we can see these forces at play in our natural world!

cost: FREE!!




Link breath to movement in this mixed level Vinyasa Yoga. Class includes sun salutations and a dynamic sequence of postures (asanas) that builds heat, releases tension and focuses the mind. Start your morning off right in this 55 minute class!