Liz Wentworth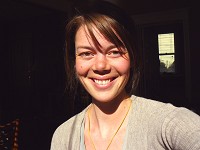 Liz Wentworth began her exploration of the science and art of yoga about 11 years ago with a dear friend and an open heart. In 2008 Liz began her 200 hr. level training at the Yoga Center of Minneapolis and is now a certified yoga teacher with the Yoga Alliance. This journey has continued to bring new opportunities and revelations of the complexity, beauty and grace of the human body, mind, and spirit. Liz aims to teach a class that emphasizes self-trust and love, true body alignment (both inside and out), and holds the space for her student's own personal development. Her personal practice and teaching style is influenced by many people, experiences, & styles including: Kripalu, Kundalini, Prenatal, Vinyasa flow, and dance/organic body awareness & movement. Classes are steeped in breathwork, asana, & meditation.
Liz Wentworth instructs the following:
A step up from beginners. Mixed level class. Focus on alignment and the breath. Poses consist of sun salutations, standing poses, twists, back bends, inversions, and seated poses. Modifications and props are provided to help students access the poses safely and effectively. Philosophy is woven into the fabric of the class to help students embody the teachings of yoga.